Shopping Cart
Your Cart is Empty
There was an error with PayPal
Click here to try again
Thank you for your business!
You should be receiving an order confirmation from Paypal shortly.
Exit Shopping Cart
Main Street Artists Gallery & Studio
Fine artists working, inspiring and supporting one another
Still life. Why do I paint it? First, as someone who enjoys the juxtaposition of one item to another, texture against non, play of colors and values, the still life genre satisfies the designer in me. I can get lost in the choosing of subjects and their relationship in my setup.
         A treasure trove awaits my choice in nature, found objects, garage sale finds and meaningful mementos of my life and those of others. In a way, I become an explorer in search of the perfect piece that makes my heart race. I become the "Indiana Jones" of still life excavation. The perfect combination may portray a moment in time, elegance, or a story told. The possibilities are endless!
         Or maybe I just like being the boss. Yes, I am the boss of each setup from idea to completion.
         More importantly, I can appreciate God's creations in natural items, or the handiwork of humanity in some beautiful pieces. Speaking of a higher power, in the stillness we may connect with who we really art. This is what I experience when I paint these "slices of life."
         In the contemplative still life process of connecting with what I really see, I find myself. I find the higher power. I find God.
~ Lisa Zaccour
Keeping a Sketchbook
Many artists will tell you they've doodled-drawn-sketched ever since they can remember. I am no different. I always had pads scattered about with drawings I worked on, especially when I was idle. My sketching came in bursts, but there was no real method to my madness. 
I recently attended two programs about "Keeping a Sketch Book." One by Carol Siracuse of Buffalo, and the other by Bill Mancuso of Ohio. They both came with multiple sketchbooks and numerous materials. Carol makes extraordinary sketches of her world travels. Bill predominately sketches the ordinary in everyday life. Bill remarked that he sketches every day, no matter how late, or how little energy he has at the end of a teaching day. He always gets one drawing in. 
As the new year unfolded, I purchased a few supplies and committed to completing at least one sketch a day, no matter how simple or rough. I am on day 43 and so far have sketched my dog, a banana, a cup, a pencil, the TV, etc. Surprisingly, this is what I've learned so far: 
1.How to simplify my materials.I am an art-materials junkie. I love trying new brushes, colors, papers and mediums. With sketching, I don't need expensive supplies. I purposely tried to limit my materials so as not to distract myself or to complicate the process. 
2.Practicing discipline.No matter what, I manage to get a sketch on a page before I go to bed. It's an awesome feeling of accomplishment, even after a trying day.
3.My skills are improving.I am beginning to see what is actually in front of me, not what I "think" is in front of me. I see the blemish in the banana, the beautiful colors in a mushroom. 
4.How to keep a journal.Bill Mancuso used his sketchbooks similar to keeping a journal. He included ticket stubs, stickers, and weather reports. I've never kept an ongoing journal, but now I have my sketchbooks.
5.Living in the moment.My mind has always traveled in many directions at the speed of light. Not surprisingly, meditation has never been my strong suit.  When I'm sketching, I stay in the present. I focus on that one item or place and feel incredibly relaxed. I get into an almost meditative state. 
6. Learning that life is not a competition.There is a quote from the 1920s poem Desiderataby Max Ehrmann that my grandmother would read to me; "Do not compare yourself to others for you will become vain or bitter."  I am my own worst critic. I can beat myself to a pulp comparing myself to others or worse, to try be perfect. Through sketching I'm learning not to judge but to create. I don't expect a masterpiece every time, or anytime. I don't feel any high stakes: I'm not comparing myself to others. I'm not listening to my inner critic. I'm just enjoying myself. 
7. Hold on to a memory.One of my favorite Georgia O'Keefe quotes is, "God told me if I painted a mountain enough, I could have it." Once I sketch something, I can look at it years later and remember the day, how I felt, and what my senses were experiencing. 
My sketchbook has become my way of communing with my higher power. I am feeling present, appreciating the beauty in the ordinary, and feeling gratitude for another day. Most of all, I know that there is something greater than myself. 
-- Cris Metcalf
As the new year begins it's always a good time to take stock and gauge our progress, forward or backward. We never stay in one spot. Sometimes it's necessary to step back before we can move ahead. Though painful at the time, stagnation can provide the catalyst to move forward. This especially applies to creating art.
Last year at this time I felt stuck artistically. Sure, I had taken a few classes in abstract and oil painting, but still clinged to the safety of my acrylic landscapes. But two fortuitous opportunities arose in 2018 that compelled me to step outside the safety of my upstairs studio. The first was an opening at the Main Street Artists & Gallery. The MSA, located in the Hungerford Building in Rochester NY, consists of 17 artists who create art in all mediums and showcase their art in two adjoining studios. It is a wonderfully supportive group—a place not only to do one's art, but a place where an artist can get feedback on a regular basis, express her frustrations, and feel secure in the knowledge she is among friends who know first-hand the struggles all artists wrestle with. Since joining last February, my life and my art have changed considerably.
The second opportunity was becoming a student of artist Brian O'Neill. Brian's method focuses on the basics of drawing, which demands repetitive exercises dealing with value and shape, and evolves into more complex renderings. Not only have these classes improved my drawing, they also have brought my painting to a higher level. I've learned that there is no substitute for practice and perseverance. Finally, my stubborn nature has become an asset!
To those artists who feel their craft is stagnant or feel stuck in a rut: Seek out a class you can join or a group of fellow artists with whom you can create and discuss your art. We all have knowledge we can transmit to others, and there is so much we can learn from others. Being with artists who share your passion and understand your struggles has brought me immense satisfaction and the desire to continue my art with renewed focus. 
~Andrea Nadel
The Wonders of Pastel
Suzi Zefting-Kuhn
Do you know what pastels are?  They are basically pigment combined with filler and a binder.  The amount of filler used controls the hue (the color and shade of that color). Pastels have been in existence since the 15century and the word 'pastel' was first used in 1662.  In the early 1700's Parisian's would commission portraits of themselves in pastel.  The invention of cast plate glass made it possible for larger pastels to be created and protected from the environment. Pastels were praised because of their lifelike quality and the way the medium reflects light due to the absence of varnish. 
The medium was held in high regard. The number of pastel makers, fewer sittings required by the subject, no drying time, less equipment and lower costs helped to give the medium notoriety.   Pastels lost their appeal later in the 1700's and early to mid 1800's and were typically used as studies at that time but then regained appeal in the late 1800's. 
Contemporary pastelists are working hard to prove to collectors that the pastel medium is just as valuable and archival as oil paint. 
Personally I love to use pastel when painting animals. I find I can create the look of fur more effortlessly. I work on sanded paper called UArt. The UArt is manufactured with a number of different grits but my favorite is 400 grit. It is just coarse enough to hold many layers of pastel.  My pastels of choice are mostly Girault and Terry Ludwigs with Caran d'ache pastel pencils.  I work from photo reference of images I take myself when visiting zoos or other places like animal sanctuaries. 
Yes, pastels are messy. Latex or vinyl gloves help. If you don't like wearing gloves while working you can use a barrier cream like Gloves in a Bottle, prior to working. Creating a tray made of aluminum foil under your support helps collect stray pastel dust that may fall while you are working. 
To spray fix your work is your decision. I personally do not spray fix mine as it tends to darken and dull the pastel. Instead I tap my work over a trashcan to get rid of any loose pastel particles sitting on the surface of the piece. Be sure your framer uses spacers to keep the glass away from the surface of your work. 
I know, framed properly and handled with care my pastel paintings will survive a very long time. I also know that they are just as valuable as oil paintings. 
 Sunbather

Pastel
Collection of the Artist
Did You Take My Ball?
Pastel
30" wide x 20" high framed
$700
Little Miss Furia
Pastel
14 3/8" wide x 20 1/4" high framed
$425
A frog house, and frog paintings, serious and whimsical
Image No. 1 shown here is the final version of a still life that was started in a class. Rochester Art Club show entry rules prohibit class paintings, so I did the scene again (Image No. 2) with the sea and clouds as background. 
A young man in Jamaica who calls me regularly often tends to be sad and frustrated because he is brilliant, has Asperger's syndrome, and is very much underemployed. I sent him the photo of the second painting and he wrote back "I see serenity, that painting inspires comfort." 
Of course, I was happy that the painting fulfilled its intention. Still, I wanted to finish the first version. 
The background originally was all black. First I changed this into a stone wall with an arch, then turned that into a Venetian bridge with a canal and boats and the frogs in the dish floating downstream, then tried them in a tornado, and finally, about 11 p.m., I decided to place the face of the painting on my wet palate. The result wasn't too bad, so I turned it 180 degrees and did it again. With a few more blobs, by 11:30 p.m. it had evolved into Painting No. 1 that you see here and I was done!
There is no end of subjects for an artist to paint. Even limiting oneself to frogs, there are infinite possibilities. My NIA dance teacher and friend Jane Pagano took a photo of frog on her window (Image No. 3), and  I decided to make one realistic (Image No. 4) and one free-association (Image No. 5) painting from her image. Both are 6 x 6 inches.
Somehow, I find it especially fun to paint from photos that friends have taken and given to me. A friend gave me a picture of a green pumpkin frog, and it seemed seasonal to combine that image with our new Pittsford canal-side Frog House for our opening on Oc 21. 
If you missed it, 
A Frog House (
www.facebook.com/A-Frog-House-244426619570950/?ref=br_rs
) 
at 65 State Street in Pittsford Village (third house on the left after the bridge walking east on the Towpath from Schoen Place) is open every Sunday from noon to 5 p.m. through Dec. 23. You are invited to visit, where you can donate cash in exchange for my children's picture book, 
Froggy Family's First Frolic
, froggy art work, and frogabilia. All donations go toward helping endangered and threatened frogs through education, including designing and publishing my second book, 
Froggy Family's Fine Feelings
, and visits to school classrooms, scout troops, and other children's groups.   Or, please help directly with a cash donation to 
GoFundMe Froggy Family Fabulous Foundation (
www.gofundme.com/froggy-family039s-fabulous-foundation?member=935486
)
, 
where we already have reached 70 percent of our current goal.
~ Margot Fass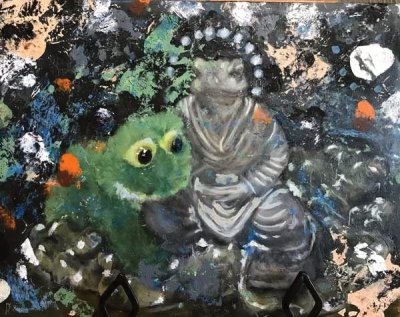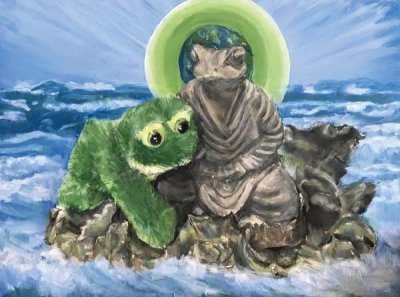 Why I draw and paint the human figure
When I walked into the studio for my first figure drawing class it was with some apprehension. I knew that drawing from a live model is considered difficult. Well, I wanted to improve, didn't I?
I had recently begun taking as many classes and workshops as I could and so I had been happy to find that it was like coming home after a great absence and meeting long lost friends.
               I was also a bit concerned that I would feel embarrassed in the presence of the nude model. What if I blushed? What if I revealed my lack of sophistication? I knew I was the product of a conservative upbringing and a society with distorted ideas concerning nudity. I was concerned my drawing skills wouldn't be up to the task.
]              After a brief demonstration we began with short gesture drawings. Immediately I was completely engrossed in what I was doing.
               Two hours flew by. I continued studying and began attending open studios where I still continue striving to improve. 
               Why does this still hold a fascination for me?
               I had spent 25 years in the fitness industry. I was an athlete for much of my adult life. I had studied anatomy and physiology and what I learned about the human body filled me with wonder. We truly are an amazing creation.
               I have always been fascinated with the kinetic energy of the body. Our bodies are never meant to be completely still, even at rest.
               I wanted to capture this aliveness somehow. It may be why I still love the raw energy of quick poses. Even during longer poses there is never complete stillness. There is a stress and tension that shows in the face and body of the model. How could it be otherwise when my subject is a living, breathing human?
               I have learned that the human form truly is beautiful. This goes beyond mere cliché. 
I logically knew that the airbrushed images held up as an ideal in our society are false, but unfortunately it is the rare person – myself included – who is comfortable in his or her own skin. It is sad that we often see ourselves as not enough when we are so much.
               I have learned this beauty is present in the curve of the neck, the gesture of hand, the tilt of the shoulders, in countless other ways. All I have to do is really look and hopefully see. It has absolutely nothing to do with any false idea of perfection.
               There is so much conveyed not only by the face but the frame. I see pride, power and strength, grace and elegance, gentleness. There is also sadness, weakness and human frailty.
If I am fortunate, sometimes something of the individual and our shared humanity finds its way into my work.
               The psalmist expresses far better than I the most profound reason I am fascinated by the human form;
               Psalm 139:14: "I praise you for I am fearfully and wonderfully made. Wonderful are your works. My soul knows it very well."
A rapt audience of about 35 interested artists gathered in the Main Street Artists Studio one recent evening to learn about many of the Caran D'Ache art materials. The presentation was given by the company's national rep, Stefan Lohrer. He was very interesting, informative and entertaining.
            Stefan explained that the company was founded in 1915 in Geneva, Switzerland, where the headquarters and manufacturing facilities remain to this day. Intriguingly, the name Caran D'ache, which was adopted in 1924, traces its origin to the Russian word for pencil – karandash.
Stefan talked about the manufacturing processes, quality control and technical considerations. Then he walked us through an array of products, including Luminance top-of-the-line colored pencils, Pablo colored pencils, Museum Aquarelle high-end water-soluble colored pencils, Supracolor Soft Aquarelle water-soluble colored pencils, traditional graphite drawing pencils and water-soluble graphite pencils, pastel pencils and pastel cubes, Neopastel oil pastel sticks and Neocolor II water-soluble crayons. He also introduced us to the Caran D'Ache Full Blender, a colorless pencil designed to blend, dry mix and intensify the colors of  colored pencils. 
          Stefan gave numerous examples for using the products, including some novel ideas. He certainly sparked the imaginations of the artists.
            At one point Stefan held up a tiny item, an aquarelle travel brush with its own water tank. It filled easily with water and Stefan cleaned it just as easily. It's a perfect mate with Caran D'Ache water soluble pencils. The brushes come in a package of three different tips: large, medium and fine. I was ready to buy them immediately so I could follow Stefan's suggestion and travel very lightly for outdoor drawing and painting.
          The audience was very intrigued by the Neocolor ll watersoluble crayons. The luminous colors have an ultra-high concentration of pigment. They can be used for many purposes, including a simple drawing and mono-print process to create self portraits. You can "color" your image directly on a mirror, then press a damp piece of watercolor paper on the mirror, using a roller to transfer the image to the paper. If you hear enthusiastic laughter coming from the MSA studios this fall you will know we are introducing visitors to this process. We're experimenting and we'll let you know when we're ready to go public.
      Everyone who attended the presentation received a goody bag with a generous selection of samples. But if you'd like to check out these fine products, Rochester Art Supply Inc., which sponsored Stefan's visit, carries a comprehensive collection of the Caran D'ache brand at the venerable store at 150 W. Main St.
 ~ Sue Hegan Henry
2018 has been a busy year, so far, for me.
            I started out January with a marketing workshop through my friend Susan Carmen Duffy at Create Art 4 Good. I set goals and went on my merry way. I started painting and attending workshops.
            Then came June and Susan sent me a reminder of my goals in anticipation of our upcoming Marketing Mondaymeeting. I have been attending these meetings regularly in an effort to better promote my art. I was pleasantly surprised that I had accomplished 2½ of my 5 goals. The last two involve doing something I should have done last year. I have a tendency to just paint and ignore the business part of my art. This has caused me to have a surplus of product and no online presence for sales.
            The following are my 2018 goals:
·      Paint more Norris'.
ü  As I mentioned above, I have been painting!
·      Research places to get my art visible outside of Rochester.
ü  I have been looking into shows outside of Rochester and galleries in areas where I like to paint. I've entered a couple of competitions and made a painting donation to the Provincetown (MA) Art Association and Museum.
·      Get my website running and consistently posting.
ü  My website is up and running. I've been posting regularly on my Facebook page but I have not been writing my blog on my website. I have not added any of my new paintings to my page galleries since November. This goal has only been half reached.
·      Sell online.
·      Get my DBA and tax number.
Now I need to accomplish the last two. I can't sell online without a tax number and I can't get a DBA without deciding on the name I want to have…forever.
This is why, while, even though I don't like to think about the business part of being a creative, I continue to take classes, read articles and attend Marketing Monday meetings. These friends are the ones who keep me honest and gently push me in the direction I need to be headed in.
Along that vein, I would be remiss if I didn't mention that:
·      My Facebook page is Christine D Norris
·      My Instagram page is o2paint 
~ Christine Norris
The 17 members of Rochester's Main Street Artists group will present its biennial exhibit at Patricia O'Keefe Ross Art Gallery in the Joseph S. Skalny Welcome Center, St. John Fisher College, 3690 East Ave. Pittsford. 
            The show runs from June 4 to July 6 with an artists' reception  6-8 p.m. Friday, June 8. Gallery hours are 9 a.m. to 4:30 p.m. Monday through Thursday, 9 a.m. to noon Friday. It is free and open to the public.  
            The showwill include more than 50 paintings in a variety of styles and media. Paricipants are Diane Bellenger, Linda Cala, Kathleen Dewitt-Hess, Margot Fass, Sue Hegan Henry, Kathy Lindsley, Jacqueline Lippa, Gabriele Lodder, Daniel Mack Sr., Cris Metcalf, Eleanor Milborrow, Andrea Nadel, Christine D. Norris, Jane Patrick, Susan Schiffhauer, Lisa Zaccour, and Suzi Zefting-Kuhn.
            The Main Street Artists group was founded in January 2010 by Suzi Zefting-Kuhn and now has 17 members who share gallery and work space in the Hungerford Building in downtown Rochester. Studio 458 has become a popular stop during monthly First Friday and Second Saturday events. The St. John Fisher exhibit provides an additional opportunity for people to learn about this dynamic group.
               "Our members enjoy sharing our art with each other and the public," says Zefting-Kuhn. "Visitors often comment on the creative atmosphere we have all worked so hard to create and, to me, that is the best compliment."
            For more information, visit www.mainstreetartistsgallery.com or call 585-233-5645.
Come see what's up with MSA!
You can visit the studio and members during the First Friday (6-9 p.m. April 6 ) and Second Saturday (10 a.m.-3 p.m. April 14) open studio events. You can also stop in at other times – members are at work almost every day! Call 585-233-5645 to make sure someone is "home."
Meanwhile, please check out our website (www.mainstreetartistsgallery.com) and be sure to LIKE us on Facebook! 
NEWS ITEMS!
Save the date!
MSA AT SJF
The Main Street Artists will once again present an exhibit at the Patricia O'Keefe Ross Art Gallery in the Joseph S. Skalny Welcome Center at St. John Fisher College. The show is open weekdays June 4-July 6; a reception takes place 6-7:30 p.m. June 8. 
 We artists are a sensitive bunch. Sensitivity serves us well in creating and expressing our art, but there is a flip side. When we display our art to the public, whether at shows or on social media, we become vulnerable to all types of criticism or worse, ambivalence. It can be difficult to receive negative feedback or silence without feeling slighted. When the source of these comments is close friends, family members, or other artists, we may feel especially hurt and insulted.
  So what's an artist to do? Can we expose our artistic expressions and remain unphased by the negative reaction of others? Though this can be a challenge, I have found a few ways to help keep hurt feelings in check and build self-esteem.
     1. Take specific actions to improve your confidence and pride in all you have accomplished. Draw or paint on a frequent basis. Attend classes to improve your skills. We are fortunate that the Rochester art community is a rich resource for art education in all media. Consider submitting your work for exhibition. There is joy in knowing that people are looking at your work, even if no sale takes place. Although your art won't please everyone, that is OK. The most important person you need to impress is you.
  2. Accept that there could be myriad reasons why friends, peers, or family don't acknowledge your work. Perhaps they are struggling with their own work, or are facing personal health and family challenges. Chances are the reason has nothing to do with you or their perception of your work
3. Join an art group in your community. You will meet fellow artists who appreciate your work and offer constructive criticism. Group artists are very supportive of each other, and often suggest new techniques for improvement and opportunities to exhibit. Significantly, fellow artists know firsthand what it's like to put their art on display and can help you overcome self-doubt and insecurity
Gaining self-confidence and overcoming insecurity takes time, but it can be achieved. Be patient with yourself and others and generous with the folks who support you and your goals. You will come to recognize and appreciate your unique talents without fear of being judged by others
-Andrea Nadel
/